GLMS' partner, Europol, publishes report on the involvement of organised crime groups in sports corruption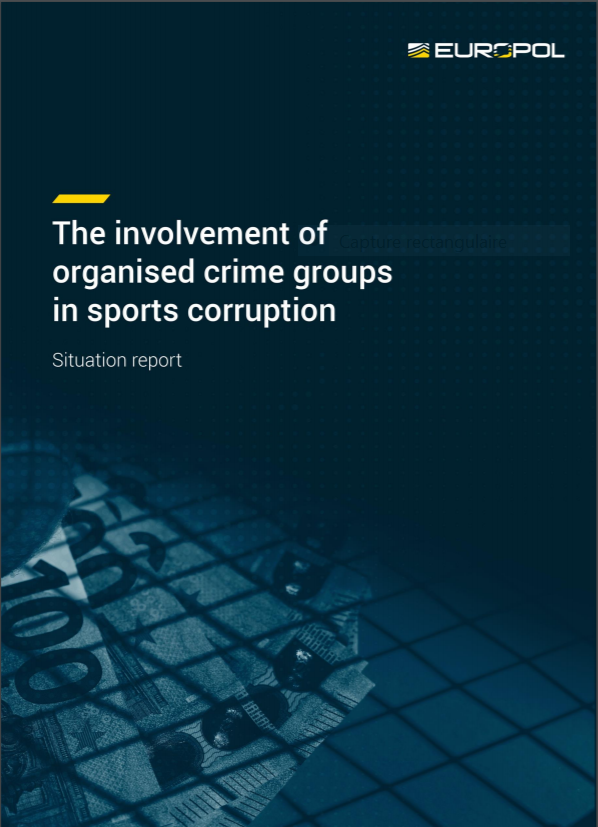 GLMS' partner, Europol, the European Union's Law Enforcement Agency,  has published its latest sport crime report, The involvement of organised crime groups in sports corruption. The report highlights the link between sports corruption and organised crime: the characteristics of criminal networks, their structure and their modus operandi. In addition, the report analyses the different types of match-fixing as the most prominent form of sports corruption monitored by Europol. 
Sports corruption is a serious crime involving organised crime groups operating transnationally, these gangs are often poly-criminal and can well serve as a platform for organised crime groups to further high-scale money laundering schemes. The global annual criminal proceeds from betting-related match-fixing are estimated at €120 million. Online betting is increasingly used by organised crime groups to manipulate sports competitions and criminals usually target lower-level competitions across different sports, with football and tennis the most targeted sports by criminal networks. 
GLMS recognizes the importance of understanding the techniques used by organizd crime groups to carry out their criminal activities through sport.  GLMS has had a partnership with EUROPOL since late 2018, alerting suspicious sporting events and carrying out in-depth analyses when needed. In addition, GLMS is a partner of the Integrisport ERASMUS+ project run by the CSCF Foundation for Sport Integrity, which provides training for law enforcement and the judiciary on tackling manipulations of sports competitions. 
Asian betting markets were noted as the preferred choice for OCGs in the Europol report and a similar point was made in the recent GLMS "Study on Betting operators and their sponsorship of sport".
"The Asian betting market has been the preferred choice for OCGs due to two main reasons: the high-liquidity of this market offering higher winning rewards; and the most remarkable advantage of ensuring a high degree of anonymity and consequent lack of traceability that the multi-layer 'agent system' offers. Asian bookmakers operate on a low margin/high turnover business model. Bets may be placed via the phone, via betting shops or via internet betting websites. These two factors combined make this system favourable to OCGs for carrying out their activities in this field. The OCGs using the Asian market to place their bets, take advantage of both legal and illegal bookmakers; the latter are present in large numbers and operate online through betting platforms. Illegal online websites are particularly used by bettors residing in countries where betting is illegal or not regulated. The great advantage of the illegal bookmakers is that they are ready to accept high-value bets where legal bookmakers cannot. Additionally, OCGs have access to illegal bookmakers with active lines of credit based on trust (and regardless of the financial circumstances of the punter). The financial gains are such that many of these illegal bookmakers in Asia are in fact operated/controlled by OCGs".
Football
Football remains the most targeted and manipulated sport by international organised crime groups due to its worldwide popularity, financial dimension and the large turnover betting market attached to it. Criminals more often target players having a specific role within the team (e.g. goalkeepers, defenders, captain of the team) as these players are more 'valuable' for match-fixers than others, as a simple mistake can easily lead to the conceding of a goal without raising suspicion. 
Tennis
Individual sports competitions like tennis with a limited number of key participants (e.g. players and/or chair umpires) are an even easier corruption target for match-fixing gangs. Detection of match-fixing schemes in tennis has increased and Eurasian organised crime groups have been found to be heavily involved in tennis match-fixing.
Fraudulent betting and the involvement of organised crime groups in sports corruption are not new developments. However, the involvement of these criminal groups in sports corruption is increasing in the EU Member States. Europol, through its Economic and Financial Crime Centre (EFECC) continues to support investigations to dismantle criminal networks that launder their criminal profits through sports corruption or increase their illegal assets by manipulating sporting events worldwide.