GLMS and SBC collaborate to deliver Lottery Day at the SBC Digital Gaming Summit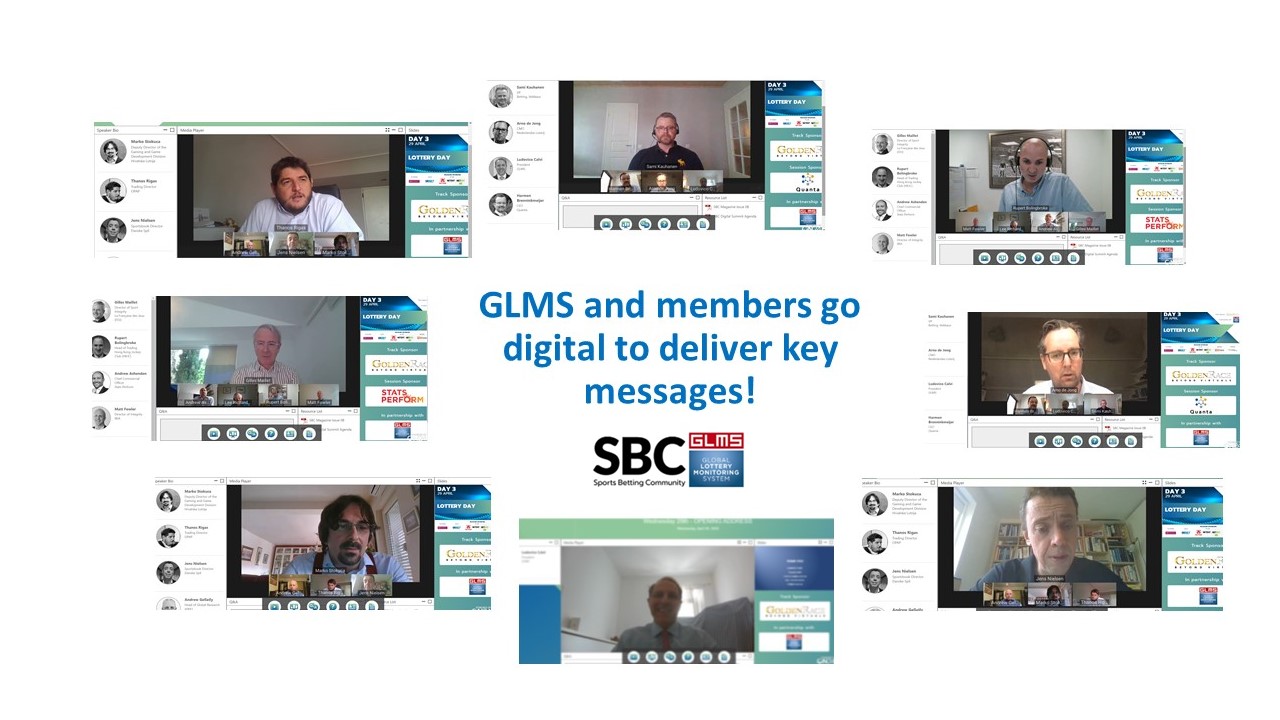 Online, 29 April 2020. In the framework of its strategic partnership with the Sports Betting Community (SBC), GLMS partnered with the SBC Digital Summit to deliver the Lottery Day segment of the SBC Digital Summit. Working together with other stakeholders in the betting sector, the Lottery Day was sponsored by Golden Race, with GLMS as the main partner. The keynote speech launching the day was delivered by GLMS President, Ludovico Calvi, who introduced the individual sessions and presented GLMS' vision and mission and its strategic approach to fight sports corruption worldwide.
Ludovico highlighted GLMS' global multi-stakeholder approach and integrity hubs reaching across the globe. He also focused on the challenges faced and the actions taken by lotteries during these unprecedented times while our health and safety have become our greatest concern. 
Industry leaders, namely GLMS' members were present as speakers, including Gilles Maillet from La Francaise des Jeux, Rupert Bollingbroke from Hong Kong Jockey Club, Jens Nielsen from Danske Spil, Sami Kauhanen from Veikkaus (Finnish Lottery), Marko Stokuca from Hrvatska Lutrija (Croatian Lottery), Arno de Jong  from Nederlandse Loterij and Thanos Rigas from OPAP. GLMS and member representatives actively participated in various panels, including the Implications of COVID-19 on sporting integrity, How lotteries are adapting to the outbreak and Post-Coronavirus positioning.
Responses to the crisis and concern for employees
In his opening keynote, the GLMS President described a number of possible effective responses to the crisis that may be taken or have already been implemented by lotteries and gaming organizations, including essential actions to safeguard the care and safety of employees such as their physical and psychological well-being. GLMS member and speaker at the event, Sami Kauhanen (Veikkaus VP Betting), highlighted this aspect, "First of all we have to take care of our employees during the crisis, communicate with them a lot and create an environment that they can trust that we are coming out of this even stronger as we were."
Adapting to new challenges
Business continuity and how the gaming industry had to review organizational processes to quickly adapt existing process and re-allocate available resources to meet new challenges was also addressed in the keynote and in a number of panels. Jens Nielsen, GLMS Member Danske Spil's Sportsbook Director, added that "at Danske Spil we continuously strive to be a transparent, modern and responsible option for Danish sports betting consumers. Now that most tournaments in big sports such as football, basketball and tennis are on hold, many of our sports betting clients have naturally reduced their overall activity, whilst esports meanwhile has grown significantly in proportion of our sportsbook sales".
The need to protect sport integrity
A lively session took place on the topic of sporting integrity during COVID-19, GLMS' monitoring efforts and the possible aftermath.
Head of trading at Hong Kong Jockey Club (GLMS' member and Asian operational hub host), Rupert Bolingbroke reflected on the improvement in detection methods that GLMS has adopted recently and how these will bear dividends with fixes coming under greater scrutiny as they stand out more in these difficult times of limited content. La Francaise des Jeux Director of Sport Integrity, Gilles Maillet added that the situation has already been complex and is even more vulnerable now; "Many athletes , clubs and officials are financially suffering today. This weakness during COVID-19 is already an opportunity for organized criminals and will only become more targeted when competitions finally resume, so deep monitoring and close cooperation between stakeholders – lotteries and private betting operators, sports organizations, law enforcement authorities – will be more needed than ever in a few weeks". 
Gaming companies have also reacted quickly to optimize their costs to align to a new and completely unexpected market realities while safeguarding profitability and cash flow levels. Financial sustainability is also been guaranteed by the undertaking of governments tax relief in the form of changes to tax rates or deferring tax payments to later dates as well as direct financial support from various governments in the form of loans or grants. 
Looking past the COVID-19 crisis
Trading Director of OPAP -GLMS' Greek member, Thanos Rigas reflected on the situation; ""After Covid-19 we are inevitably entering into a new reality and a new normality. As lotteries we need to respond to the challenges, then adjust our practices, and at last optimize our day to day overall proposition, always in order to stay relevant to the new conditions while fulfilling our mission to support our local societies" .
Ludovico also presented a post-crisis outlook for successful gaming companies, touching on key engagement of human resource competencies, financial stability, the evolution of living services, rapid and measurable delivery, automated digital processes and data driven artificial intelligence. GLMS' Croatian Member, Hrvatska Lutrija's Deputy Director of Gaming and Game Development, Marko Stokuca shared on this topic that ''Corona is a game changer. We are entering in a new era with different social behavior and habits. (Limited number of players on points-of-sale, limited time spent there, masks, hygiene measures). Lotteries will focus even more on processes and channels without physical contact – online sales, mobiles on points-of-sale (as preparation terminals), contactless payment. Online sales will continue to grow''.
Final thoughts
About the event, the GLMS President commented, "​In this moment of unparalleled crisis, events such as this innovative digital summit organized by our strategic partner, SBC, are a great opportunity to discuss very strategic issues affecting the betting and gaming industry with prominent industry leaders.  The absence of sport competitions worldwide have created a window of opportunity for fraudsters and criminal organizations determined to manipulate residual sport competitions across the globe. GLMS Integrity Hubs together with members and partners have never been so busy as in the last 2 months in fighting the phenomena of ghost matches and match fixing".
Nederlandse Loterij (GLMS' Dutch member) CMO, Arno de Jong, provided an appropriate conclusion, stating that 'In times of Corona we are more relevant than ever due to our intense relationship with sports and charities". Indeed, many changes are to come and GLMS' members are working as hard as possible to make their valuable contribution to society, business and protecting against harmful activities, sporting and otherwise.
The Lottery Day of the summit fell in the midst of a five day digital event that saw over 10,000 attendees, 140 speakers and over 4000 lotteries, private operators and suppliers.  
A full agenda of the event can be found here
More about our members' activities here!
Links