GLMS contributes to successful Integrisport Awareness-raising in NL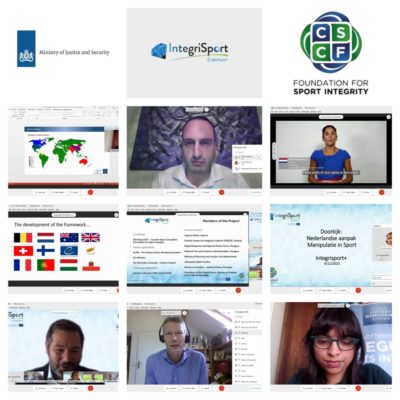 This week, GLMS legal and project manager Cassandra Matilde Fernandes and Canadian hub analysis coordinator Chris Yaakoubian took part in our partner project Integrisport by CSCF – Foundation for Sport Integrity, hosted by the Dutch Ministry of Justice to share sports betting basics, and how Dutch law enforcement & judiciary can optimize GLMS services including reports and benefit from co-operation with its national lottery Nederlandse Loterij (and GLMS member) to better combat sports manipulations. 
"There is a clear need to make the issue of manipulation in sport a bigger priority in the Netherlands in order to fight it effectively!" said by Chiel Warners OLY in his keynote in the 7th Integrisport Awareness Raising Practical Session in the Netherlands, which concluded successfully. 
Speakers included guest speakers and project partners: Global Lottery Monitoring System – GLMS, EU Athletes, The Fiscal Information and Investigation Service (FIOD), Politie Nederland, the Federal Prosecutor's Office of the Kingdom of Belgium and Openbaar Ministerie (Netherlands Public Prosecution Service), as well as INTERPOL. Integrisport's project manager, Norbert Rubicsek  confirmed that these interventions were vital in engaging law enforcement with relevant stakeholders and better identifying various operational and cooperation issues, highlighting "the importance of facilitating cooperation between law enforcement agencies and private organisations such as those representing athletes, the sports movement and the world of betting to understand the different point of views, because they all have the mutual goal of fighting against the manipulation of sports competitions".
GLMS supports projects such as Integrisport, which helps facilitate collaboration between key stakeholders in the fight against sports manipulations. Integrisport is a great opportunity for GLMS to share the perspective of lotteries with law enforcement and judiciary. We are looking forward to the next project, Integrisport Next, which recently received funding from the EU for a second project from 2021 – the end of 2022. 
Links