Lithuanian authorities agree new sports integrity pact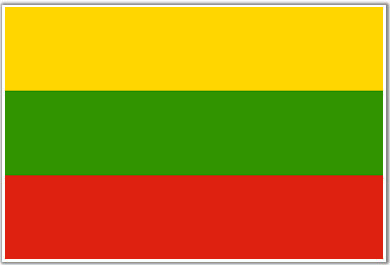 Leading government bodies in Lithuania have signed a new cooperation agreement to help fight match-fixing and move towards ratification of the Macolin Convention.
The agreement was signed by Minister of Education, Science and Sport Algirdas Monkevičius, Minister of the Interior Rita Tamašunienė, Attorney General Evaldas Pašilis and Renatas Požėla, Commissioner General of the Police Department. The organisations that each of the four represent have been cooperating to help prevent match-fixing since 2015.
In addition, Special Investigation Service (STT) director Žydrūnas Bartkus and director of the Ministry of the Interior's Financial Crime Investigation Unit (FNTT) Antoni Mikulski signed the agreement as new parties in Lithuania's anti manipulation efforts.
"We hope that the renewed agreement, joined by two new institutions, namely the Financial Crime Investigation Unit (FNTT) and the Special Investigation Service (STT), will help to protect gamblers from match-fixing and help licensed betting companies in Lithuania, ensuring fair competition in sports, " Daukšys said.
The country's Gambling Supervisory Authority said that each organisation involved has agreed to take specific actions within its own scope to fight match-fixing.
The move is a step towards ratification of the Council of Europe's (CoE) Convention on the Manipulation of Sports Competitions, better known as the Macolin Convention. Lithuania signed the Convention in September 2014.
"Today's agreement is a continuation of what we have been doing for many years," Monkevičius said. "Lithuania has already signed the International Convention against Manipulation of Sporting Events, but in order for it to come into force, we must cooperate more closely and closely, not be afraid to criminalize sporting manipulation and work together to ensure transparent organization of competitions.
"In the near future, we intend to develop a concrete plan of measures to combat the manipulation of sports competitions."
The Macolin Convention officially came into force in September 2019.
In October 2019, the Global Lottery Monitoring System (GLMS) urged more countries to ratify the convention, emphasising how it will help with education and prevention activities related to manipulation in sport.
In January, Lithuania's Gambling Supervisory Authority announced that 24 football matches in Lithuania were suspected of having been affected by match-fixing in 2019. The Gambling Supervisory Authority also reminded operators that under the country's Gambling Act, it is illegal – and punishable with up to four years' imprisonment – for individuals to place bets on events in which they participate.
Source: www.igamingbusiness.com