Official launch of new GLMS partner project – IntegriSport Next 2021-2022

Official launch of EU-financed project IntegriSport Next 2021-2022
 "Raising awareness about the damages of sports manipulations (#matchfixing)"
The launch of the EU-funded project, IntegriSport Next ERASMUS +, was officially held on 18 February 2021 at a kickoff meeting, this time online due to current circumstances instead of, as originally-planned, in The Netherlands.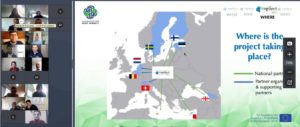 This project, developed and coordinated by the CSCF Foundation for Sport Integrity, is considered the continuation of the successful IntegriSport Erasmus+ project (2019-2020), consolidating itself as an important platform for raising awareness for law enforcement and judiciaries about the damages of sports manipulations in Europe (#matchfixing).
GLMS has been a partner also of the first Integrisport project since 2019 and is now a partner of the new project, with the possibility of contributing to delivering targeted trainings and enhancing the work of law enforcement in tandem with the sports betting sector, including its relevant members in the concerned countries.
The project represents a joint commitment to strengthen prevention and cooperation on this phenomenon in six countries: Cyprus, Estonia, Finland, Georgia, Malta and Sweden,bringing together the efforts of:
Country Partners Organisations: The Cyprus Police; Estonian Police; Finnish Center for Integrity in Sports; The Ministry of Education, Science, Culture and Sport of Georgia; Malta Police Force; Swedish Sports Confederation
Partner organisations:

The Global Lottery Monitoring System (GLMS)

& Katholieke Universiteit Leuven (KU Leuven)
Supporting organisations: FIFPRO
The abovementioned is plan to be achieved through the consolidation of a comprehensive awareness raising program and operational support to law enforcement agencies (LEA) and judicial authorities (JA) in Europe to face this phenomenon under the same collective.
In this way, Integrisport Next (2021-2022) truly generates an ideal space for law enforcement agencies (LEA) and judicial authorities (JA) to debate in transnational meetings and training programs led by recognised experts the use of appropriate investigative techniques, legal instruments, sport policy, sport betting and virtual currencies in sport at national and international level to be effective in the criminal procedure regarding matchfixing and other sport integrity matters.
For more information, please contact us!
Social media for the project
Links