The rapid growth of eSports, matchfixing risks and the role of GLMS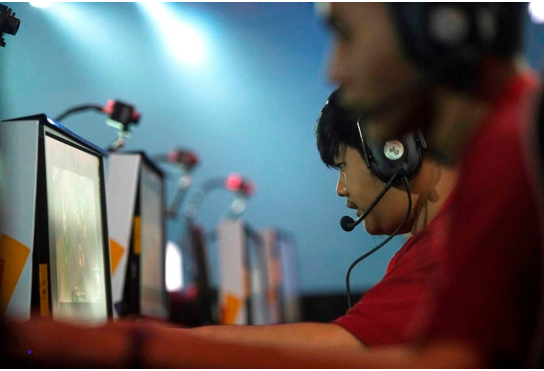 (translation of the original article appeared on Danish press, available here)**********Doping, cheating and match fixing new sportsAs e-sport grows and the money grows enormously as well, the dark sides of professional sport protrude into its ugly face in the form of cheating and doping. At home there is now a disciplinary committee, and the industry established a cooperation with the Anti Doping Denmark.The e-sport has been growing dramatically in recent years with giant tournaments, huge sponsorships, prime-time TV transmissions, and loads at the level of professional football players. But with that, the darker sides of sport have come to mind, such as match fixing and cheating.Photo: FRED DUFOUR
Morten Jasper
JournalistSince a few years, e-sport has taken the walk from the boys' rooms and dark computer cafes to crowded multi-arenas with thousands of audience and TV transmissions at prime time.The professionalism of e-sports has gone awfully fast. The money goes into the form of sponsorship, TV rights and wages for the best players. In other words, the e-sport has been on the same journey as you know from professional football. The difference is just that what took place in the area of 100 years for football is done in just a handful of years in e-sport.It is an immature industry, and in the face of money and enthusiasm, the traditional sports sneak down darker sides now into the competitive e-sport."When there is growth and money, there will always be people who feel tempted," says President of Esport Denmark, Thomas Koed.IAN SMITH, ADVOCATE FOR ESPORT'S INTEGRITY COALITION
"In e-sport, fraud and match fixing are the main threats to the integrity of sports"
With the growth of e-sport, we have seen an increasing challenge with match fixing - that is, matches that are decided in advance, by players who have decided to lose on purpose. Other forms of cheating have also been revealed and even tournaments in Asia have been spoiled by doping scandals in the form of players who have taken Ritalin to increase concentration. The medicine Ritalin is typically used by ADHD patients, but in recent years it has become known to get the brain to "drive in high gear" and therefore also used for exam joining."At home we have had trouble finding the smoking gun, but we have been able to see that there have been some irregularities," explains Thomas Koed.Developments from abroad, however, are clear. In 2016, a Korean top player was arrested and sentenced to 18 months in prison to lose weight on purpose. Ian Smith is a lawyer for the Esports Integrity Coalition (ESIC) organization and put in the world to fight cheating and cheating in e-sports. In an interview with the Guardian earlier this year , he expressed that cheating is an increasing challenge."In e-sport, fraud and match fixing are the biggest threats to the sport's integrity," he says, pointing out that in China, the illegality is extensive.
ACTS
e-sport in wild growth
According to the American analyst Newzoo , the global economy of e-sport in 2017 had a value of 4.5 billion. DKK and attracted around 385 million. viewers all over the world.Danske Games's revenues from e-sports betting in total increased from 2016 to 2018 by 324 per cent. Danske Spil expects a turnover this year around 140 mio. DKK .
The basic foundation needs to be built up
At our latitude, Esport Denmark, which represents 4,000 executive e-sports players, establishes an impartial disciplinary and appeal committee to meet the new challenges."We are establishing the rules and frameworks for e-sports. It has not been seen before and it is unique to the whole world. We want that responsibility to take on the whole industry, "says Thomas Koed and continues."We are building a high rise, where the summit is heavy and has a lot of money, while the rest of the house is fragile. The foundation is simply not built up. "Esport Denmark has selected two individuals, Adam Ringsby-Brandt, lawyer from Bertel Rasmussen Advocates, and Kasper Nemeth, former employee of Danske Spil, in charge of building the disciplinary committee. At the same time, Esport Denmark and Anti Doping Denmark are entering into a cooperation agreement, which has been approved by the Ministry of Culture."When it comes to match fixing, cheating and doping, it is important to root down rules and behavior in e-sport in Denmark based on the legal rules that lie," says Michael Ask, Director of Anti Doping Denmark in a statement.
High-flying gamblers
Like other sports in growth, e-sport in these years attracts the game gamblers. Today, anyone over the age of 18 can, for example, place bets on e-sports competitions and tournaments. And they are doing it so very rapidly.Looking at Danske Games's income from e-sports betting together, that has grown by 324 per cent from 2016 to 2018. Danish Games expect to trade in the region of 140 million. DKK on betting in e-sports in 2018."We take it as seriously as any other sport, and therefore e-sport affects the same mechanisms as for other sports," explains Rasmus Simonsen, who is responsible, among other things, for e-sports at Danske Spil.E-sport is monitored and handled by the independent unit GLMS (Global Lottery Monitoring System), which is financially borne by, for example, Danish Games and other gaming providers. It is GLMS, according to Rasmus Simonsen, watching unusual game patterns in close collaboration with Danske Spil."We have not seen match fixings in Denmark in Danish. But it is a problem where it is important to be at the forefront and therefore we consider it a good initiative", says Rasmus Simonsen.This is a translation of the original article published in Danish and available here