GLMS participates in Integrisport awareness raising for Slovak Law enforcement & Judiciary

GLMS President Ludovico Calvi and Hubs Co-ordinator, Daniel Chan, contributed to the success of the Integrisport ERASMUS+ project awareness raising session for law enforcement & judiciary in Slovak Republic on 22-24 September 2020. The event, organized as a hybrid event due to COVID-19 , by project co-ordinator CSCF Foundation for Sport Integrity and the Slovak National Crime Agency of the Police Force Presidium constraints was dynamic and  interactive. The session involved over 50 participants from law enforcement. Ludovico and Daniel presented recent GLMS activity amidst COVID-19, and how to look at monitoring reports to the benefit of police investigations. GLMS were joined by other valuable speakers including EU Athletes, the Belgian Prosecution service, as well as CSCF experts, to exchange with relevant stakeholders from law enforcement, judiciary and sport of Slovak Republic.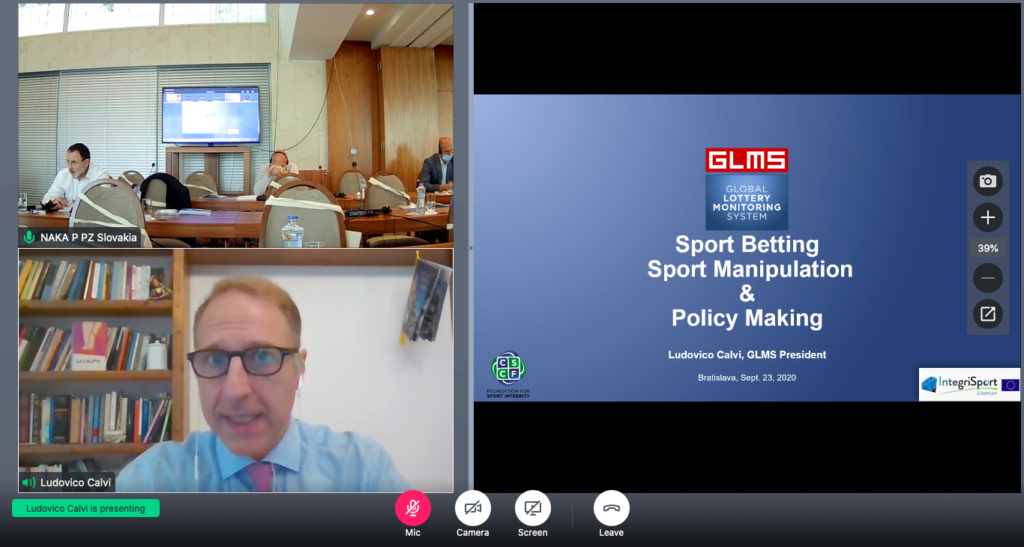 In his opening speech, Colonel Dr Attila Zajonc PhD, of the National Crime Agency of the Police Force Presidium, emphasised the need to respond offensively to fast-developing methods of committing crimes related to the manipulation of sports competitions with thechnology and digital means of payment.
Ludovico Calvi commented on the project's importance of Integrisport in promoting best practices and co-operation,"I was very privileged to present GLMS and its key strategic activities to such a prominent audience during the 6th Awareness Raising Session in the frame of the Integrisport Erasmus+ project (Slovakia, 23-24 September 2020). I value the continued precious partnership between CSCF – Foundation for Sport Integrity and GLMS in the pursuit of creating a culture of sport Integrity effectively through real and practical best practices. This is the only way to increase the standards of vigilance and fight sports corruption at local and global level successfully"
A Joint declaration from key Slovak stakeholders
As an illustration of their efforts, the relevant Slovak stakeholders also issued a joint declaration of their commitment to work together to fight sports manipulations. The declaration was signed during the session last week by 
National Criminal Agency of the Presidium of the Police Force of the Ministry of the Interior of the Slovak Republic

Ministry of Education, Science, Research and Sports of the Slovak Republic

Office for Regulation of Gambling of the Ministry of Finance of the Slovak Republic

Slovak Football Association

Anti-Doping Agency of the Slovak Republic
Norbert Rubicsek J.D., former Lieutenant Colonel and now director of CSCF – Foundation for Sport Integrity and Project Manager of IntegriSport Erasmus+, emphasised in his closing: "The effective prevention of and fight against the manipulation of sports competitions is conditional on raising awareness of the integrity of sports competitions and streamlining mutual co-operation and the exchange of information between law enforcement authorities and organisations active in the field of sport and sports betting at national and international level".
GLMS agrees.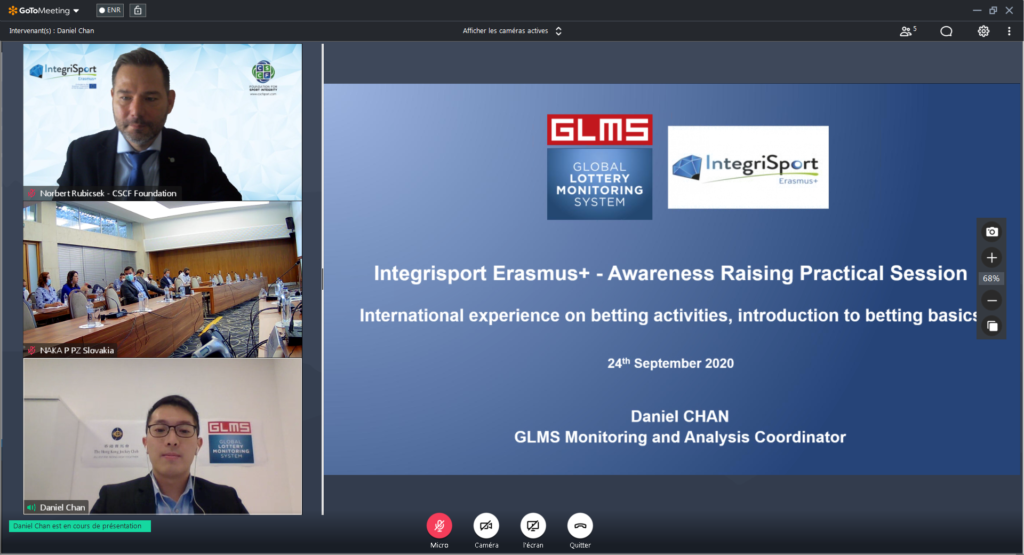 More on Integrisport and GLMS together
Links