GLMS partner project Integrisport ERASMUS+ releases joint statement with institutional and law enforcement partners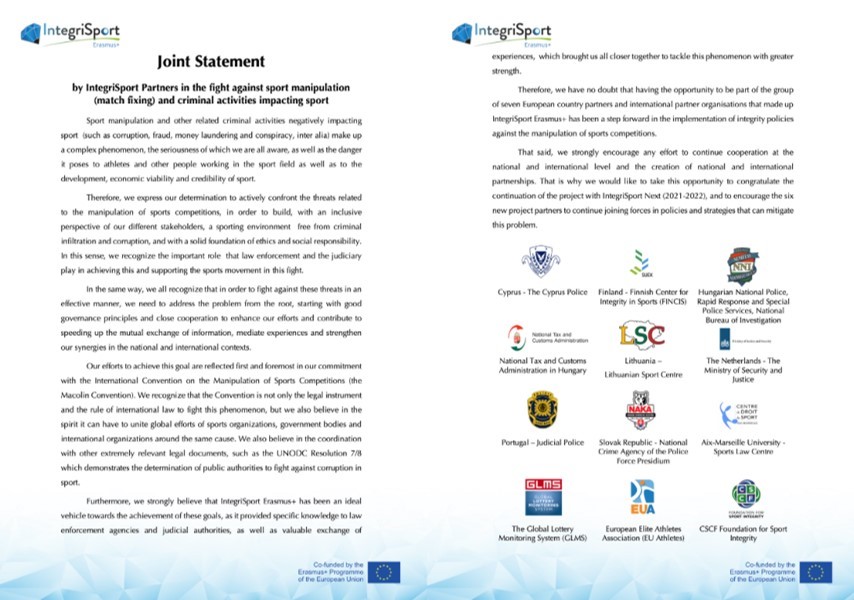 While the ERASMUS+ project, Integrisport, coordinated by CSCF Foundation for Sport Integrity, came to and end in March 2021, training law enforcement and judiciary on effectively tackling sports manipulations, the project institutional and national law enforcement agencies showed their support for the topic with a Joint Statement.
The IntegriSport Erasmus+ project (2019-2020) came to an end with its closing event organized by project co-ordination, CSCF Foundation for Sport Integrity, on Wednesday 10th March, on the topic of sports manipulations and criminal activities impacting sports.
The statement, signed by the partners, including law enforcement from Cyprus, Hungary, Portugal and Slovak Republic, as well as the Dutch Ministry of Security, FINCIS,  the Lithuanian Sport Centre, Aix-Marseille University, EU Athletes and of course, GLMS, reiterated the importance to actively confront theats related to the manipulation fo sports competitions in a coordinated manner.
The follow up project, Integrisport Next has kicked off successfully, currently in its fact finding phase and involved law enforcement and relevant authorities from Cyprus, Estonia, Georgia, Malta, Sweden, Finland as well as KU Leuven and FIFPro.
Links